Products ranging from specialized industrial equipment to compact consumer electronics rely on high-frequency magnetic inductors and transformers. Given their integral role in converting and transferring power, magnetic components have been subject to the broader trend of increasing industrial demands. For instance, high-frequency magnetics must now accommodate even high-kilowatt applications at a compact size and with minimal winding loss.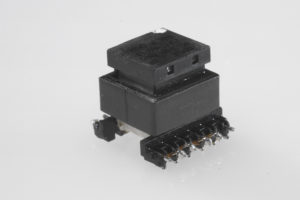 Designing high-frequency magnetics to meet these demands is a challenge, even before considering industry-specific constraints. To address such needs, the experts at Triad Magnetics consider every variable of component design to craft the most effective custom solutions.
By altering design parameters, our engineers are able to accommodate almost any custom order, considering factors such as:
Balancing winding loss with core loss based on the coil size and shape
Interaction of the magnetic component with the circuit design
Capacitance, inductance, voltage and current requirements
Minimizing leakage in winding designs or multi-function components
Macro vs. micro fabrication
Selection of appropriate empirical models to simulate performance
Appropriate terminations
We draw on our extensive industry experience to tailor these design and fabrication considerations to each individual project.
Custom High-Frequency Magnetics from Triad Magnetics
The team at Triad Magnetics has extensive experience designing and building high-frequency magnetic components of all shapes, sizes, power levels, and frequencies. Our primary custom offerings include the following products, all of which can be personalized to your unique needs:
High-Frequency Inductors
High-frequency inductors are designed for use in switch-mode power supplies, serving to filter high-frequency pulses. These components are extremely versatile and can work with varying levels of DC current. This property means that high-frequency inductors work in both AC and DC settings, where the DC components are superimposed over AC.
Discontinuous and Continuous Current Flyback Transformers
Flyback switch-mode transformers transmit stored energy between primary and secondary devices. Continuous and discontinuous transformers differ in whether they allow constant current between cycles. As the name suggests, continuous flybacks allow some current to continue flowing between cycles. By contrast, discontinuous transformers allow the current to completely decay at the end of a cycle.
Custom Switch Mode Transformers
Switch mode transformers are among the most commonly used for high-frequency magnetics, so Triad supplies these components in a wide range of configurations. In addition to stock switch mode transformers, we offer custom transformers in both parallel and series designs. Our capabilities include power ratings from 0.010 VA to 9 kVA with frequency ratings from 20 Hz to 500 kHz, so our components function in both high- and low-power applications across a wide range of frequencies.
Custom Current Sense Transformers
Current sense transformers identify the level of incoming current and transform it into a more usable level. As such, they allow for safe, continuous current monitoring and switching at a range of current levels and frequencies. Our custom current sense transformers operate on primary currents ranging from 50 mA to 500 A and at frequencies from 20 Hz to 1 MHz. Options are available for potted and unpotted styles, as well as for printed circuit boards, flying leads, and built-in primary windings.
Custom Inductors

Although transformers and inductors perform similar functions, most inductors work better when partially saturated with DC current. Our custom inductors are available at frequencies between 25 Hz and 500 kHz, providing inductance that ranges from the uH to H levels. We also offer above-standard temperature resistance reaching 220º C (compared to 155º C, which is typical of class F inductors).
Additional options include:
Weights from 0.06 oz (1 g) to 550 lbs. (250 kg)
Multiple taps
Dielectric strengths (hipot) from 30 kV AC to 20 kV DC
Grade 5 or 6 encapsulation to comply with MIL PRF 27 standards
AWG wire sizes from 1-45 AWG
Copper foil wire sizes up to 0.050″ (1.27 mm)
Multi-layered wires for higher currents
Litz wire for high-frequency applications
Ripple current accommodations
Custom Gate Drive Transformers
Gate drive transformers interface with a power transistor drive circuit and either a power transistor gate or base for MOSFET and bipolar junctions, respectively. These transformers are subject to strict isolation voltage standards, which Triad meets and exceeds with superior coupling between primary and secondary devices. We offer a range of shapes, sizes, and core materials with options to satisfy most any industrial application.
Single-Ended Buck Transformers
Single-ended buck transformers are a specific type of switch-mode power supply that operate at higher frequencies than most standard line transformers. The name is a reference to the buck regulator circuit topology, which is a common, efficient DC to DC converter typically used to step down voltage.
Push-Pull Buck–Derived Forward Transformers
Push-pull buck-derived forward transformers are similar to single-ended buck transformers, but unlike their single-ended counterparts, push-pull transformers work magnetically in both directions. This feature allows for superior core utilization and maximum efficiency. These components typically consist of primary and secondary coils with a centered tap in the winding. However, there are also design variations that combine four diodes joined via a transformer primary, and these components are sometimes called full-bridge or H-bridge in reference to the resulting shape.
RF Power Transformers
Reserved for special applications requiring unusual operating frequencies, RF power transformers are carefully designed to change voltage levels between one end of a transformer and another. Since these transformers typically accommodate specific applications, they require careful design guidance, especially in terms of material selection.
Triad's Custom High-Frequency Magnetics Capabilities

Triad Magnetics is a leading supplier of custom high-frequency magnetics. We design and fabricate a full range of transformers and inductors for clients across industries, producing specialized industrial, commercial, consumer, and medical products. Our proven approach relies on a design partnership with our clients in which we combine our magnetics expertise with our client's industry knowledge, yielding completely customized power supply solutions.
Some of the most sought-after features and services we can provide include:
Cooling systems
Custom footprint design
Encapsulation
Filters
Low-profile designs
Magnetic shielding
Wide array of core material choices
Various mounting and termination options
Extensive, documented testing
We also design to a wide range of quality and performance standards, including the following internationally-recognized codes:
UL Insulation System Classes B (130° C) through R (220° C)
FCC Part 68
CSA
ISO 9001:2015
TUV, VDE, CE, IEC > Mil-T-27E
Our rigorous quality standards allow us to meet and often exceed these specifications, so our clients know they receive best-in-class components when they partner with us.
Custom High-Frequency Magnetics Applications
High-frequency magnetics drive critical equipment across industries. Some of the most common applications of custom magnetics include:
Audio amplifiers
Power supplies
Avionics
Aerospace equipment
Medical imaging devices
Surgical, medical, and dental devices
Telecommunications devices
Specialized laboratory equipment
Commercial products
Since each of these categories carry their own constraints and specifications, it's important to consult with an experienced magnetics power supplier to determine your options. At Triad Magnetics, we've provided high-performance custom magnetics for applications ranging from dental imaging to factory automation, and we use this experience to tailor our services to each and every client. Whatever your needs, we'll work with you to find an effective and affordable solution.
Contact Triad Magnetics Today
Triad has over 75 years of experience in custom power solutions spanning diverse industries and applications. We pride ourselves on cultivating responsive, two-way partnerships with our clients, allowing us to rapidly identify your needs and design a custom, effective solution. Our full range of services spans consultations, CAD/CAE design, rapid prototyping, manufacturing, electrical testing, and product sampling, so you can be sure that your Triad components are custom-tailored to your needs.
To learn more about Triad's options for high-frequency transformers and inductors, you can review our online magnetics catalog or contact us for individualized guidance.