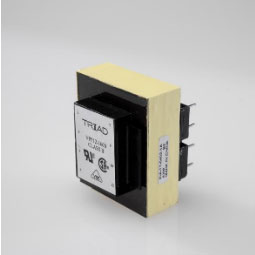 Power transformers are the workhorses of electrical and electronics applications. Simply put, these passive electromagnetic devices transfer electrical energy — typically by inductive coupling — from one circuit to another while converting power-level voltages from one level or phase of configuration to another in order to boost or lessen voltage to suit a specific application.
Click here to view our catalog of Power Transformers

Click here to use our Parametrics Product Search
Power Transformers from Triad Magnetics
With the goal of providing an optimized design for our customer's application, Triad's engineers provide extensive custom design services with rapid design, prototyping, and testing from our U.S. Design Center located in Perris, CA – all backed by ISO 9001:2015 certification. Our engineers have the ability to design a completely custom power transformer or modify an existing standard product to meet the needs of any application.
Triad has been designing and manufacturing transformers for more than 75 years and is proud to offer a wide range of standard power transformers for use in diverse applications and industries.
Medical-Grade Isolation Power Transformers – Health and wellbeing take center stage with these power transformers designed for use with hospital beds, dental chairs and equipment, medical lab equipment, and patient monitoring equipment. Unlike the standard EI transformers offered by other companies, Triad's toroidal construction allows these models to be manufactured in much smaller sizes, of 5.12" to 6.82", for greater efficiency. Plus, stray fields are minimized to ensure sensitive equipment nearby is not affected.
Toroidal Medical Power Transformers – Medical equipment components must be incredibly precise, and Triad has developed deep expertise in designing and manufacturing medical power transformers. This product line features dual secondary windings to allow for both series and parallel connections while maintaining low leakage current, minimizing stray fields, and offering regulation between 0.7% and 12.3%. Low temperature rises of only 25 ºC (77 ºF) to 55 ºC (131 ºF) can be expected.
PC Mount World Series™ Power Transformers – Triad designed this product line to maintain maximum isolation between primary and secondary coils, as well as between each winding and the core, which is further enhanced with dual bobbin construction and an insulating shroud. All of these components are manufactured with high-temperature materials that surpass UL flammability requirements.
Chassis Mount Quick-Connect World Series™ Power Transformers – These power transformers were designed to meet both U.S. and international standards, including CSA, IEC, TUV, and UL requirements. These models are among the most versatile on the market.
Chassis Mount Leaded World Series™ Power Transformers – Triad constructs these power transformers with European-style split bobbins to reduce interwinding capacitance and eliminate the need for expensive electrostatic shielding while meeting all international safety agency standards.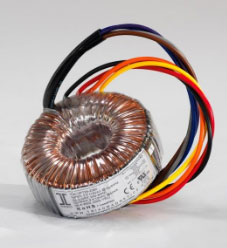 Toroidal Mount World Series™ Power Transformers – These power transformers are compact, cost-effective, and highly efficient. Featuring dual primary and dual secondary coils, these transformers are approved to UL 506, CE IEC 61558-1, and CE IEC 61558-2-6 standards, and are constructed with a Class B-rated insulation system approved for operation up to 130 ºC (266 °F).
PC Mount Flat Pack™ Power Transformers – The power transformers in this product line are designed to meet the low clearance space requirements of PC board and solid-state power designs. These models are also ideal for use in control and instrumentation applications with mounting widths ranging from 1.26" to as small as 0.88", and mounting lengths from 2.52" to as short as 1.62".
PC Mount Split Pack™ Power Transformers – These split-bobbin transformers are non-concentrically wound and instead have the primaries and secondaries side-by-side combined with low-capacitive coupling to eliminate the need for costly electrostatic shielding. This allows for great versatility in PC board applications.
PC Mount Split Pack™ Class 2/3 Power Transformers – This product line features all the benefits of split-pack transformers but adds in primary-to-secondary high potential (hipot) dielectric strength of 4200 Volts AC (VAC) — nearly twice the industry standard — along with increased secondary-to-secondary dielectric strength.
Chassis Mount Quick Pack™ Power Transformers – The power transformers in this line offer all of the power of comparable volt-ampere (VA)-rated chassis mount power transformers, but are significantly smaller and lighter-weight than standard models.
PC Mount Power Transformers – These transformers were designed to satisfy the power needs of a PC, as well as its control and instrumentation applications. Available in single primary and dual center tapped secondary configurations, these models can easily meet any PC board or solid-state power supply requirement.
Dual Primary, Dual Secondaries PC Mount Power Transformers – This line of products adds in a second primary coil to cover a wider range of operations. These transformers are rated up to 24 VA, with secondary voltages of 10.0 V CT at 2.4 A to 230.0 V CT at 0.044 A when used in series; secondary voltages of 5.0 V at 4.8 A to 115.0 V at 0.088 A when used in parallel; and nominal secondary voltage ranging from 5 V to 230 V.
Single Secondary Chassis Mount Power Transformers – These compact transformers have a single primary and single secondary configuration, primary voltages of 115 V or 230 V, and secondary voltages — including control, filament, and low-level signaling — from 2.5 V to 60.0 V.
Multiple Secondary Chassis Mount Power Transformers – This product line features multiple secondary configurations to allow for increased flexibility.
Universal Chassis Mount Power Transformers – Triad designed these transformers to offer optimal performance when integrated into full-wave center tap circuits and bridge circuits when those circuits utilize rectifiers made of silicon or selenium. These models also perform well in voltage doubler circuits at half the rated current.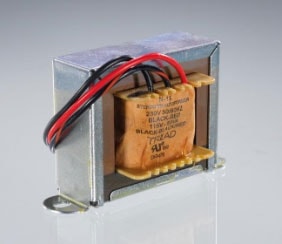 Autotransformer Power Transformers – The step-up and step-down transformers in this product line transfer power in between coils. This occurs conductively through the windings (as opposed to inductively, as with standard double-wound power transformers) to allow for increased efficiency, more compact construction, a higher degree of voltage regulation, and other key advantages.
Isolation Power Transformers – These power transformers have been designed explicitly for use in applications in which equipment must be isolated from direct power connections. Featuring non-concentrically wound coils, with each wound on a separate arbor, some of the products in this line have also been designed to meet the low-leakage requirements of medical equipment applications. These hospital-type isolation power transformers are available with resettable circuit breakers for increased protection against overloads and short circuits.
Chassis Mount Power Control Transformers – These control transformers supply secondary voltages for use with a wide range of applications, including relays, solenoids, small motors, speed changers, pumps, heating elements, control valves for fluids and gases, fans and blowers, electronic tubes, automatic assembly equipment, recording devices, elevators, door openers, and low-voltage lamps.
Class-2 Power Control Transformers – This type of control transformer is enhanced with tamper-resistant shrouds for optimal safety and steel brackets welded to the bottom of the transformer for ease of mounting.
Learn More
Ready to learn more? Browse our comprehensive online catalog of power transformers to see how we can help with your unique application needs.